Turn your valued property from
Green to Clean today!
FREE QUOTE IN 24HRS OR LESS.
NO VISIT REQUIRED.
CLICK BELOW TO GET STARTED.
Free Quote
Call Now
Gulf South Pressure Washing Pros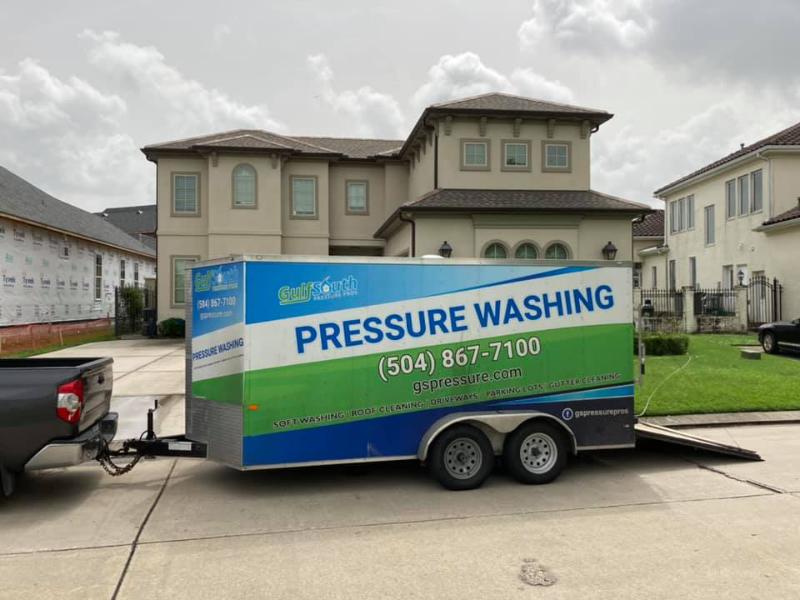 Professional pressure washing services for all sizes of commercial & residential exterior cleaning projects and needs.
Low Pressure House Washing
No Pressure Roof Cleaning
Concrete Surface Cleaning
Hot Water Gum & Oil Stain Treatment
Deck, Fence & Wood Cleaning
Gutter Debris Removal
Graffiti Removal
GulfSouth Pressure Pros offers affordable, safe, and easy cleaning services across the New Orleans, Jefferson & surrounding areas. We have the skills, tools, and experience to make your home or business cleaner, safer, and more attractive. We can quickly clean and remove dirt, grime, grease, algae, and many other unwanted materials from your concrete walkways, patios, driveways, retaining walls, and many other areas. Our services are streamlined to be customer friendly. Fast and accurate estimates, text and email notifications from start to finish, online payment options and a satisfaction guarantee. We have cleaned 1000's of homes and buildings over the years. Our goal is to ensure friendly user experience, quality work & customer satisfaction to gain a customer for life.
Professional
Pressure Washing
---
Licensed & Insured | Commercial & Residential
GulfSouth Pressure Pros is a locally owned and operated pressure washing contractor operating out of New Olreans, Jefferson & surrounding areas. We offer a variety of residential and commercial cleaning services including siding, roof, boat and RV, and much, much more. We are dedicated to delivering professional cleaning and friendly customer care for an exceptional customer experience. Contact GulfSouth Pressure Pros if you have any questions about our cleaning services, need more information, or want to schedule your next cleaning project.
Contact us today for a free estimate. We look forward to working with you!
Check out our awesome reviews on Google, Facebook, Yelp or Thumbtack
Call Now
Free Pressure Washing Quote
We Deliver Superior Results
---
Are you looking for an affordable pressure washing contractor? GulfSouth Pressure Pros is a locally owned and operated contractor offering New Olreans, Jefferson & surrounding areas with quality pressure and power washing services for your home or business. We are proud to offer quality exterior and fleet washing services for your home or business as well as new construction cleanup.
Our courteous, knowledgeable technicians have the tools and training for all your roof, siding, driveway, and other exterior cleaning needs. We work directly with each client to understand your cleaning needs and budget. Whether you're looking for a small, one-time project, or full cleaning services on a recurring schedule, we can offer the services you need at prices you can afford.
Contact us today for additional information or to schedule your next cleaning service.
Our Services: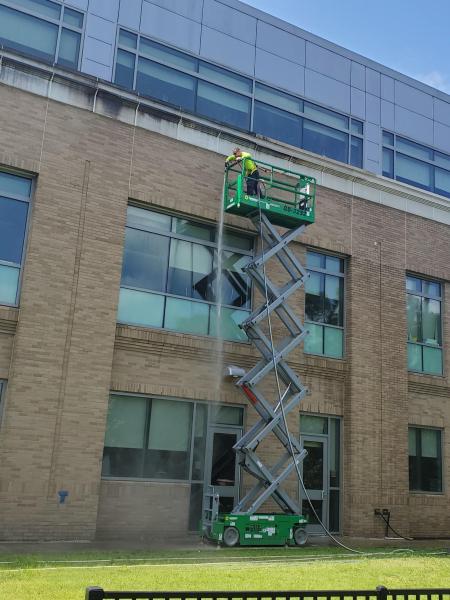 Very good job! Came on time, did everything (two-story house, patio, driveway and sidewalks) The results is amazing! Our house looks like new now! Very responsible guys! Highly recommend this company!
Мария Зубарева
Harold and Ethan got me an estimate in no time. They came out a few days later. My house had mildew on one side and lots of dust on the others. Ethan explained what they do while Harold set things up. They first spray on a cleaning solution that did not hurt my plants. Then they washed it off with water. And the place looks AMAZING!!! Every year I take a week to power wash the entire house. They did it in a few hours and it looks better than I have ever done. Afterwards they walked around the house with me to make sure I was satisfied. I was and will use them going forward. I can't complain about anything. They far exceeded my expectations.
Thank you guys!
Greg
Harold and his team worked wonders on my old uptown house! My husband and I were in disbelief and how fantastic our house looked when they were finshed. I would recommend them to absolutely anyone! Fantastic service and high quality work!
Anne V.
Fantastic job! Affordable pricing. They even came and worked in the rain to get the job done on a deadline for me. Would recommend them without hesitation and will use them from now on. Thanks for the great work!
Leslie S.
I was very satisfied with the quality and professionalism of Gulf South. They strived to achieve the best result and they did.
I definitely would call them next year for a repeat of their high quality soft wash.
Alfredo Vichot M.D.
Harold of Gulf South Pressure Pros cleaned my home on 8/29/18. We scheduled a next day appointment because the gutter installers gave me a really short notice. Harold showed up, & got to work immediately. I was & still am in awe of how great my house looks. I can't be sure, but I think he even cleaned the side of my neighbor's house, it was moldy before, but not no more. Porch, eaves, trim, are all gleaming white. The siding is refreshed, sun bleached, but poppin. The sidewalk was poured on June 18 & now the driveway looks like a fresh pour of concrete too! I'm calling Gulf South Pressure Pros to clean both my parent's & my Grandmother's homes too. You won't be disappointed.

Update! Gulf South Pressure Pros back FTW! True to my word, I asked Harold to clean both my mom's & Grandmother's houses. (4/29/19) They both turned out great. My mom was super skeptical before, but super impressed now!
Travis Sanders
GulfSouth Pressure Pros is amazing! They pressure washed my house and it came out incredible. Looks like a new home. 😁 We initially were worried because we need to paint and thought the paint would damaged. GulfSouth not only did an amazing job of pressure washing, there was no damage to our paint! They showed up on time and completed it quicker than I expected. Very professional. I highly recommend them to anyone. If you are looking for pressure washing you have to call GulfSouth, you will be thoroughly pleased.
Anonymous - Google