House Pressure Washing
Utilizing industry standard soft-washing techniques with high quality surfactants and sodium hypochlorite. Gulf South Pressure Pros take extra steps to ensure your home is pressure washed and not damaged. Before getting started, a visual inspection is done to identify any problem areas such as loose lighting fixtures or improper door jam seal. Before power washing around sensitive landscaping, plants and surrounding areas are saturated with fresh water, then after power washing is complete we rinse the plants with fresh water again. Let us do it right the first time.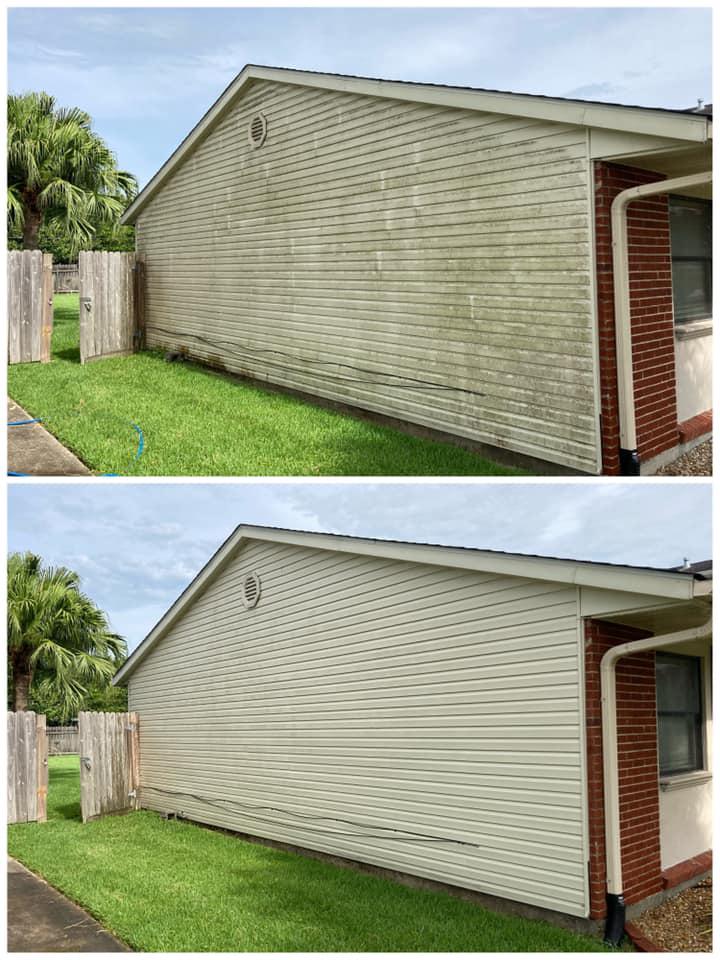 Roof Washing
We utilize a low pressure roof cleaning systems designed specifically to apply roof cleaning chemicals to your roof. DO NOT let someone clean your roof with high pressure. It will damage the shingles or other building materials. We always use a soft wash, no-pressure cleaning method to clean your shingles. Our approach low pressure washes your shingles without using force or harsh chemicals - and it gets the best result in the industry. Not only do we remove the mold, mildew, and algae from you roof we also discourage it from cropping up in the future with the cleaners that we use.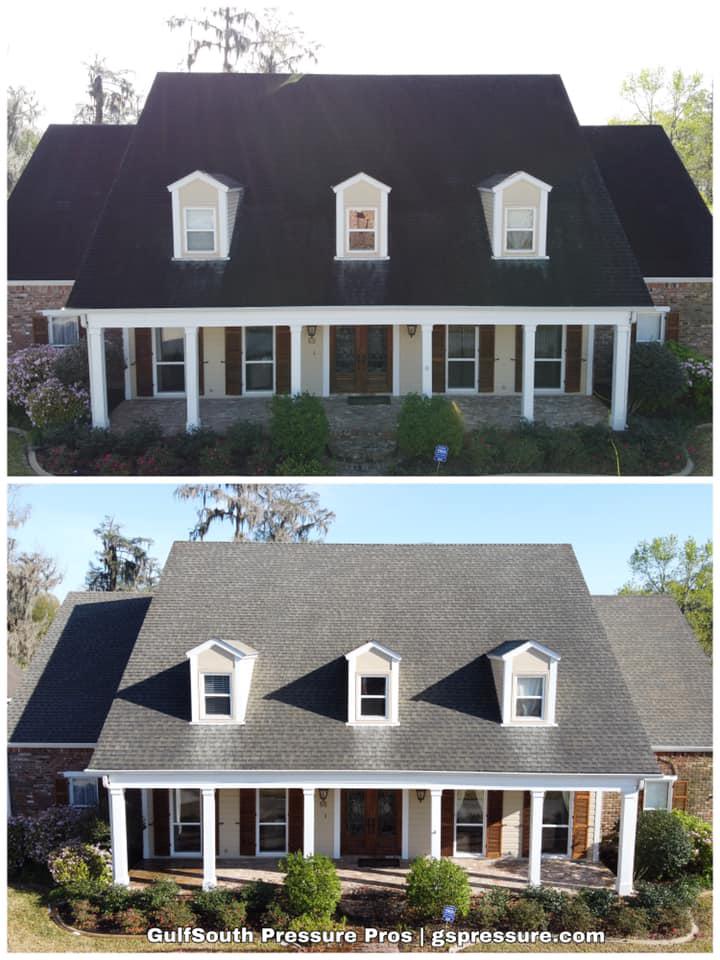 Concrete Washing
No one likes streaks in their parking lots or driveways from pressure washing, especially when you're paying for it. We use oscillating surface cleaners to wash parking lots and driveways. When necessary we may make two, or even three passes to prevent heavy streaking. Your home's concrete surfaces take a heavy beating all year long. For this very reason an equally powerful cleaning method is required to restore them to a bright, clean, and like new condition. Our Hot Water Pressure Washing for exterior concrete and cement surfaces like driveways, sidewalks, patios, porches, & pool decks is the only method you can count on to remove unsightly stains, streaks and discolorations, including dirt, grime, oil, grease, rust, and more!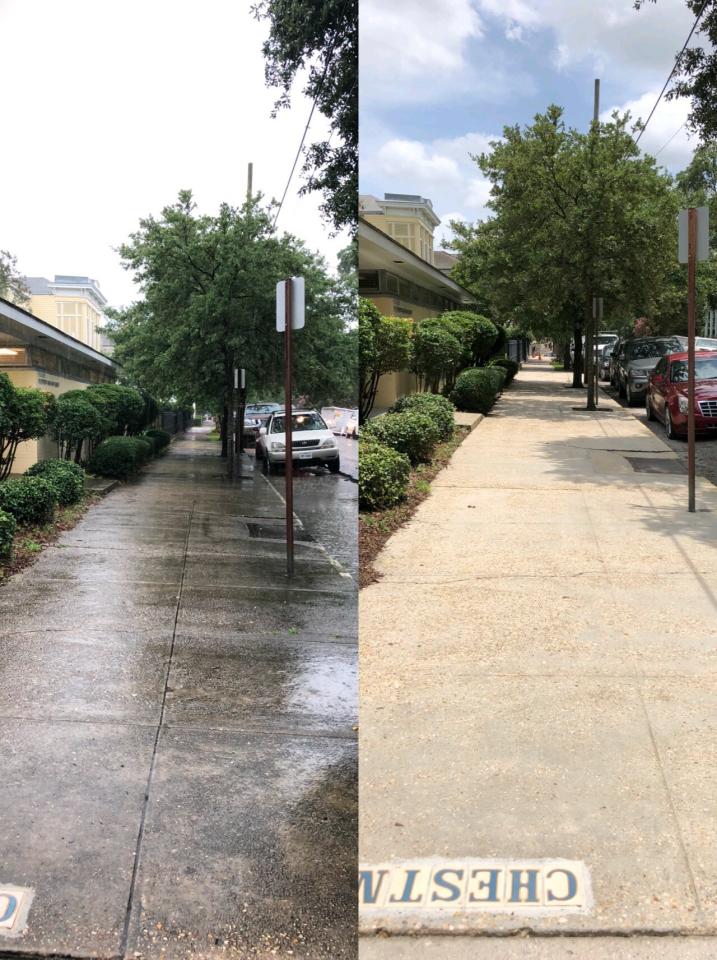 Deck & Fence Washing
Let us help you maintain the beauty & integrity of your outdoor structures with our professional cleaning. Most people use bleach to clean wood, but it can damage the wood fibers and dull the wood if not neutralized. Bleach has an alkaline PH while wood is slightly acidic. Let us do it the right way by using sodium percarbonate. Maintain the beauty & elegance of your home's outside area. Decks and fences enhance the beauty and value of your property, but left neglected they all too easily become an eyesore. Our team is experienced with cleaning all material types used in outdoor living spaces. Our cleaning service is ideal for outdoor decks, fences, gazebos, arbors, furniture & more! Call Gulf South Pressure Pros today.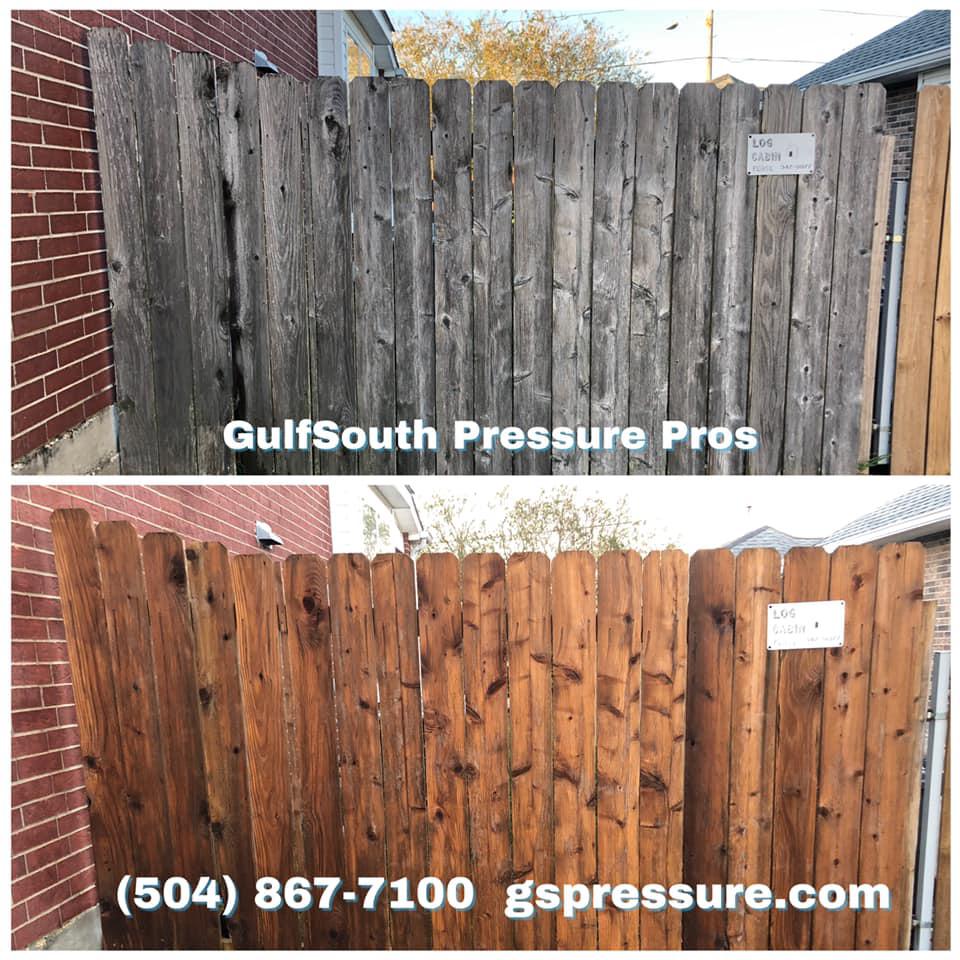 Gutter Cleaning
Inside or out, we can keep your gutters clog-free and looking great! Gutter cleaning; the removal of built up leaves and debris to ensure a gutter system that is free of harmful clogs and leaks. It is an important home maintenance service you can entrust to the professionals at Gulf South Pressure Washing. Ask for a free quote today.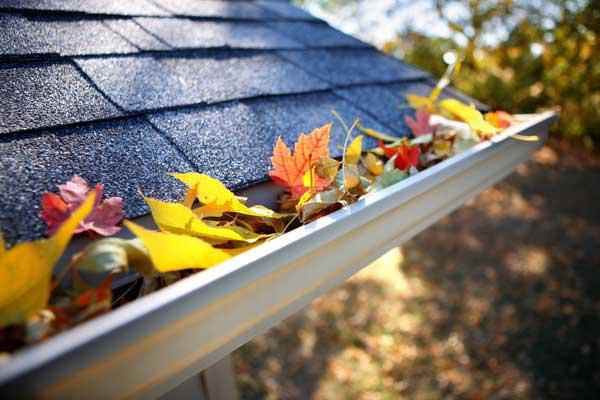 Parking Lot Cleaning & Maintenance
A safe and attractive business exterior is as easy as clean concrete! Our specialized Hot Water concrete cleaning for commercial surfaces is the ideal way to keep your place of business looking clean, fresh and inviting, while also helping to minimize the risk of "slip & fall" lawsuits. For a clean and great looking parking lot call Gulf South Pros today.